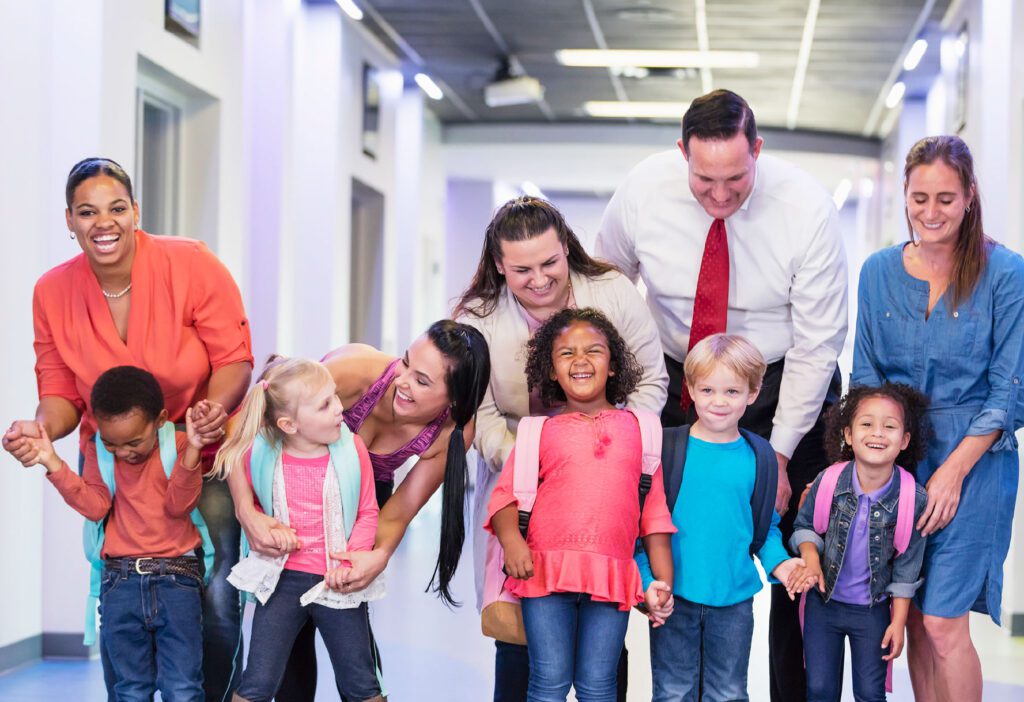 The Ready School
Kindergarten readiness isn't just about the kids.
It's about creating ready schools with teachers who can meet children where they are and give them the knowledge and skills they need to succeed.
But kindergarten readiness is also about collaboration. When schools and families work together, children thrive—and there's no limit to what they can achieve.
There's a lot you can do as an educator to build powerful, positive and culturally affirming partnerships with the families in your school community.
Click on the buttons below to get started!
---
The Ready School
Make family engagement a priority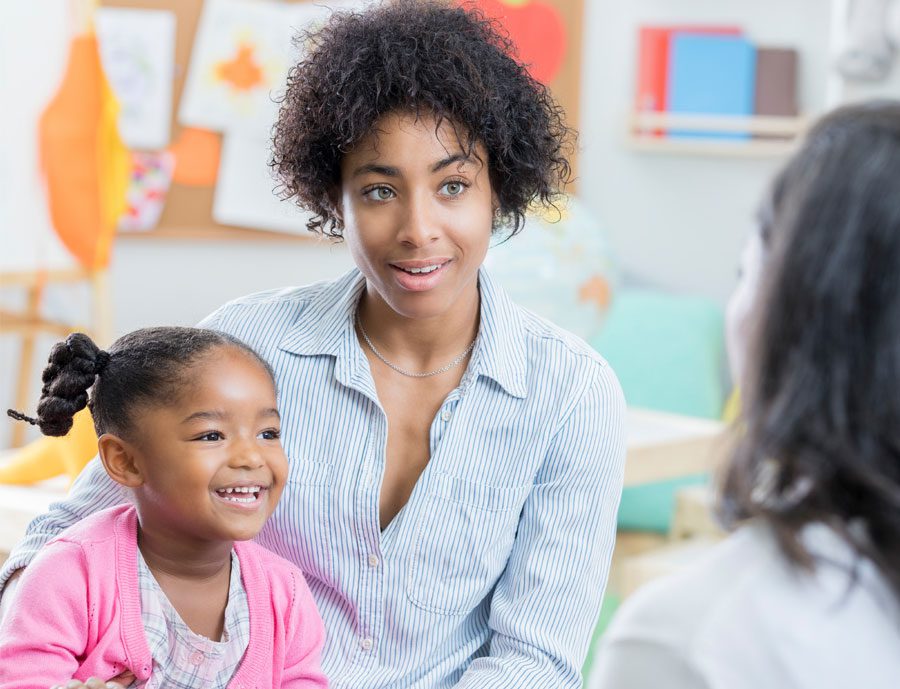 ONE OF THE STRONGEST predictors of school success is family involvement in a child's education. Research shows that children with engaged families have higher grades, more self-confidence and better social-emotional skills.
But navigating the school system can be intimidating for some family members, especially those who have had negative school experiences or speak English as a second language.
By creating a welcoming atmosphere and inviting family members to play a pivotal role in their child's school experience, you let families know that their suggestions, perspectives and involvement will be valued and appreciated.
Seven ways to engage families:
Make it a priority to greet family members with a warm smile and some welcoming words at the start of the school year and the beginning of each school day (when possible). A friendly greeting conveys that you consider every family member to be an integral part of your kindergarten community.
Be sensitive to the linguistic and cultural diversity of the families in your program and adjust your communications accordingly.
Build community by hosting regular "open houses" so that family members can learn more about your curriculum, the teaching staff and one another.
Make sure communication flows both ways—from school to home and from home to school. Ask about each family's preferred mode of communication. Then keep the channels open with weekly updates and newsletters in electronic and print versions (some families may not be tech-savvy). Solicit input from family members. They know their children better than anyone!
Create a "family area" in your classroom with a whiteboard or a bulletin board. Use this area to welcome families and write messages in the languages spoken by family members. Post a photo of each family and encourage family members to post their own photos and messages.
Invite family members to volunteer in the classroom and join the class on field trips to commonly visited places such as your local zoo, museums, ecology centers and parks. For families that are not able to participate in these activities, make sure to communicate that there are other ways that they can get involved.
Schedule extracurricular activities such as family game nights, craft nights or gardening sessions. Schedule these activities at times that most families can attend, provide transportation and child care if needed and serve refreshments.
Learn more about the ABCs of Family Engagement here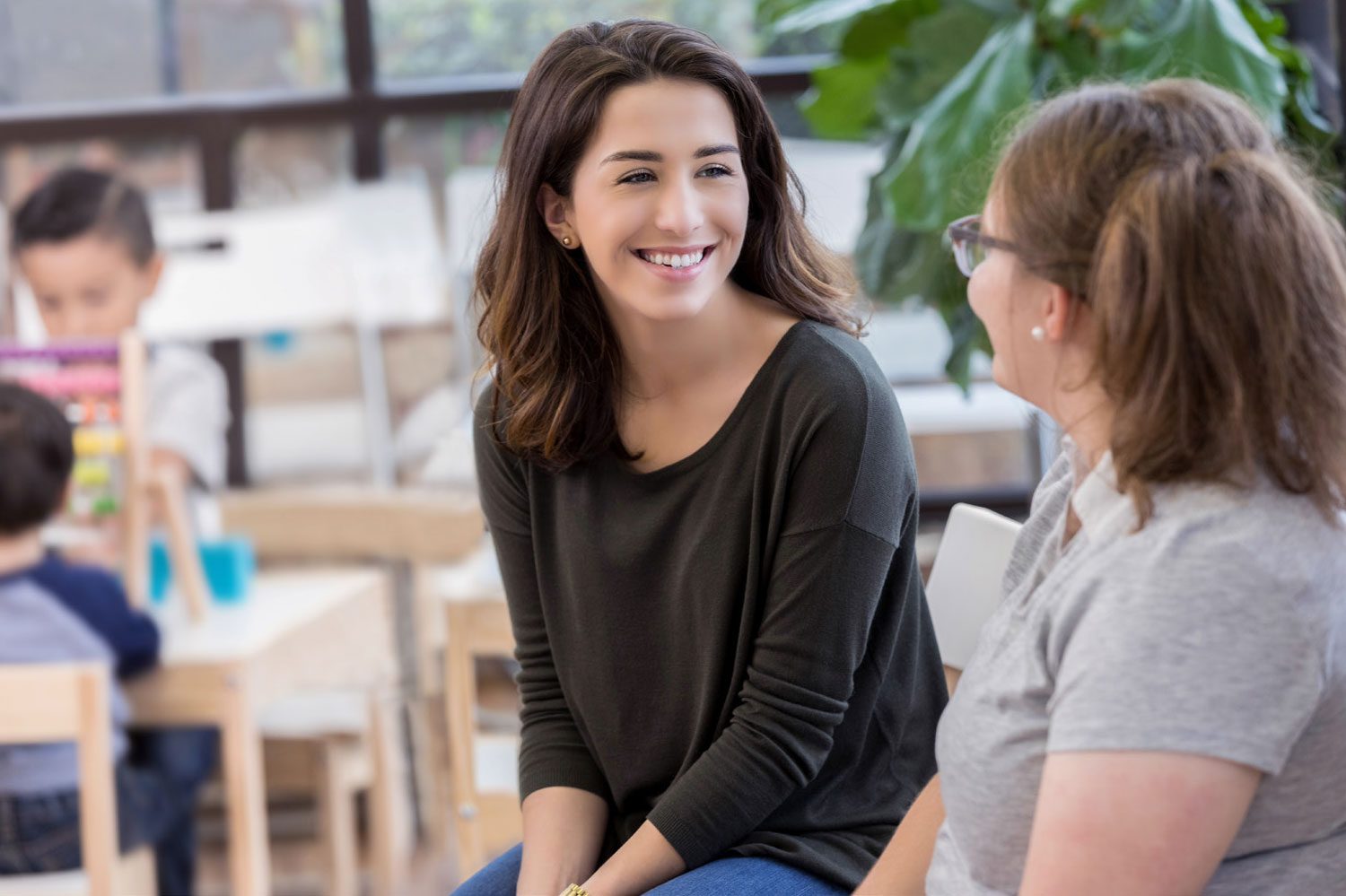 READY SCHOOLS RECOGNIZE that one of our most important jobs is to educate children about the world they inhabit.
To achieve this goal, everyone's voice must be heard. Families should feel like a valued part of the team—and educators should recognize the unique skills and opportunities that each family member brings to the table.
Seven ways to support family members in their role as educators:
Ask families what they are already doing at home to educate their child and offer suggestions for additional learning activities.
Ensure that each family is well-acquainted with your curriculum, as well as their child's routines, activities and behavior at school.
Convey that everyone learns differently. Offer tips and suggestions about how each child learns best.
Share instructional strategies that families can use at home to promote learning and development.
Suggest inexpensive and culturally appropriate ways to extend the learning at home with activities that replicate or build on each week's lessons in the classroom.
Invite family members to visit the classroom and assist with a lesson. For families that are unable to visit the classroom, suggest tasks that family members can complete at home with a small investment of time, such as coming up with ideas for a lesson or an activity.
Remind families that learning can and does take place everywhere and at any time! Children are always taking in information and learning about their world, whether they are engaged in a dedicated learning activity or simply riding in a car or on public transportation, accompanying you to the grocery store or helping out in the kitchen.
Empower families to be active and involved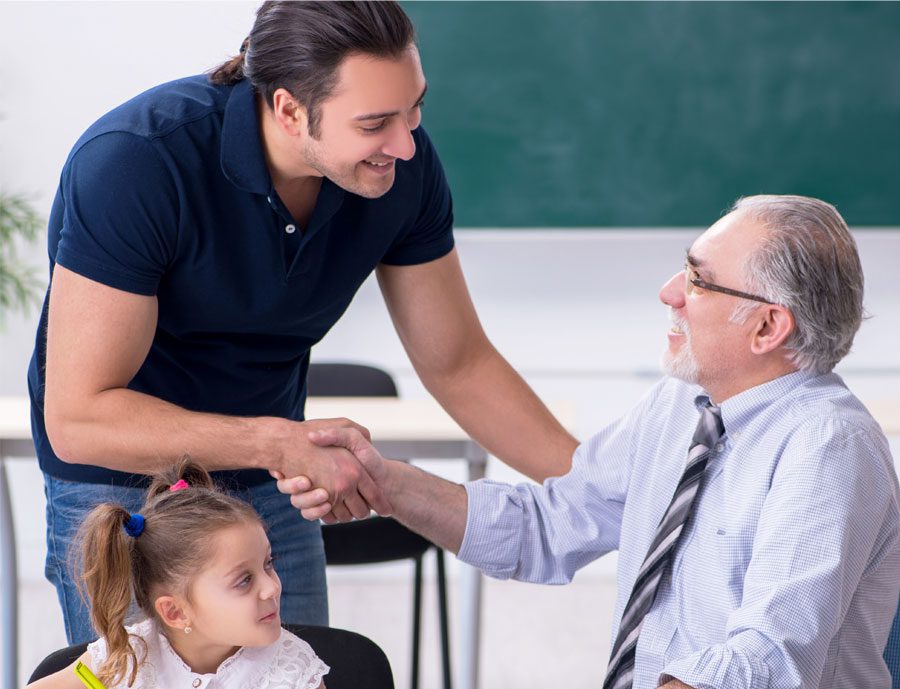 RAISING A CHILD may be the single most important role that families will take on during their lifetimes. It's a complex task. Family members are responsible for protecting and caring for their children, advocating for their rights and setting the stage for a lifetime of learning and engaging with the world in positive and productive ways.
Ready schools play a vital role in helping family members guide their children on this path to learning. When teachers form positive, empowering partnerships with families, they create an environment that promotes the healthy development of every kindergartener.
Numerous studies have documented what "ready teachers" already know: that informed and engaged families play a critical role in helping their children succeed in school and in life.
Nine ways to empower families:
Update families frequently about their child's progress, strengths and challenges.
Communicate clear expectations about the child's engagement in school life.
Encourage families to engage with clear, consistent guidelines. Remember that families are busy, so reinforce these guidelines frequently. Gentle nudges and friendly reminders (with a little bit of humor thrown in) can help families stay on track and give them a reason to smile.
Give families the resources they need to succeed as educational partners, such as weekly Partners in Education newsletters, access to technology, culturally and linguistically appropriate communications when possible and classroom lending libraries.
Host parent workshops and share skills and strategies that family members can use to help their children learn at home.
Collaborate with family members on decisions related to their child's cognitive, physical and social-emotional development.
Show that you value and respect family cultures and traditions through your communications with families, your classroom planning and your choice of activities.
Acquaint families with resources such as after-school programs, mental health services, transportation options, vocational training and employment opportunities.
Educate families about their rights to access specialized services such as early intervention programs or individualized educational plans.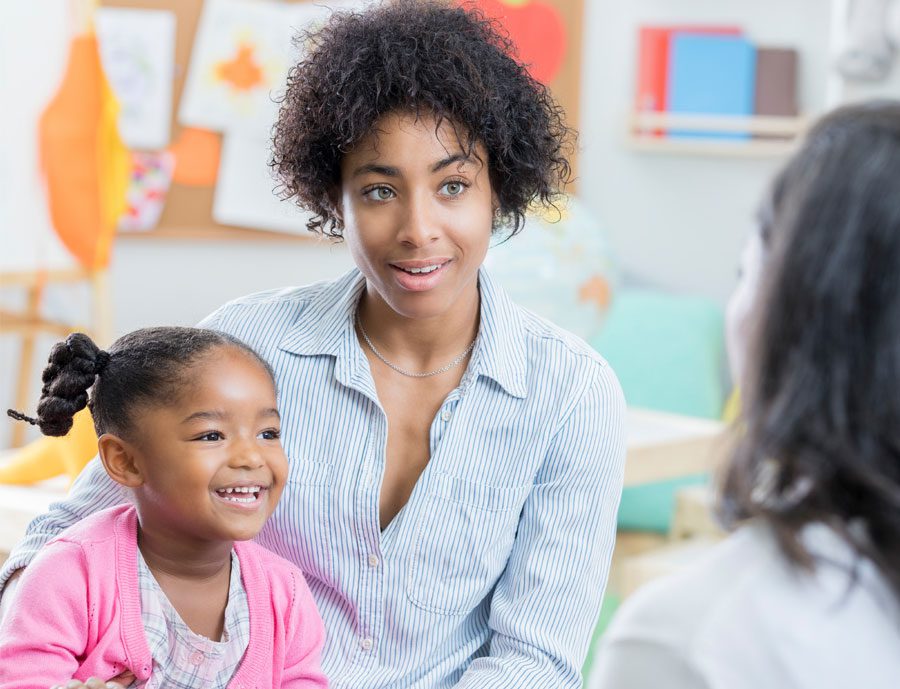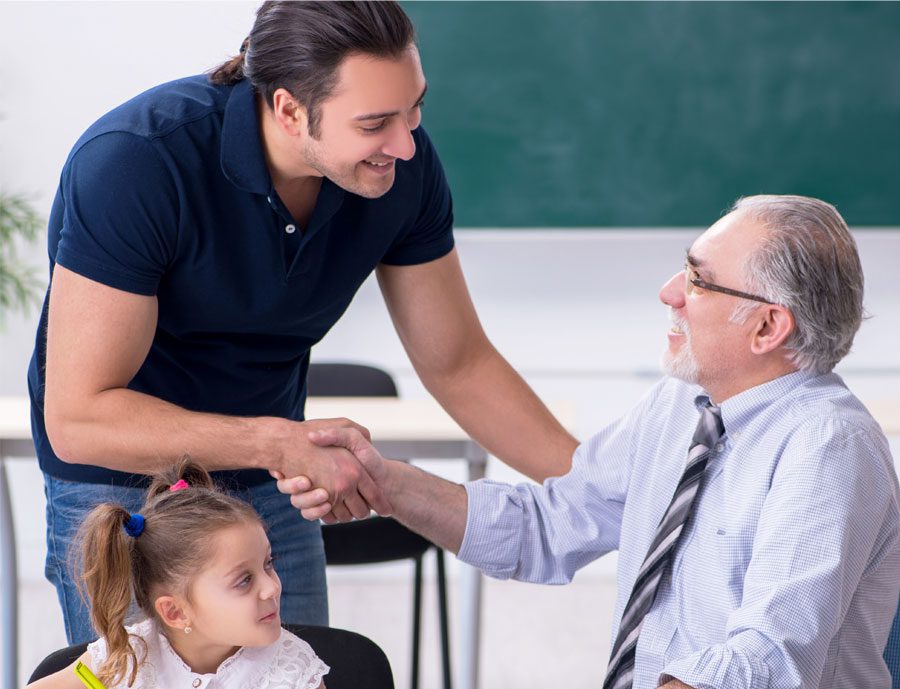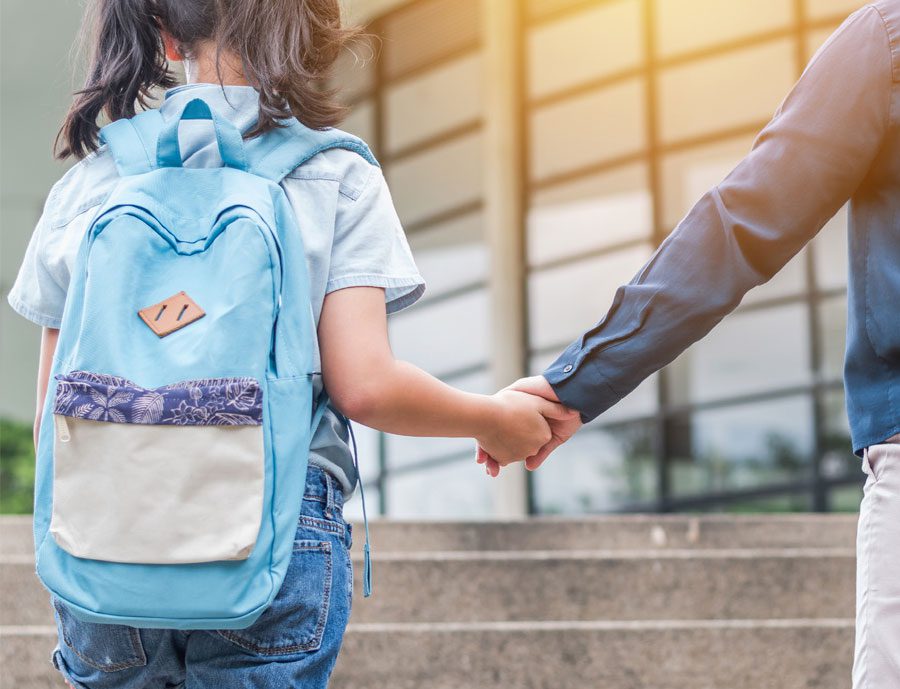 Engage
Educate
Empower
Looking for more ways to build strong school-family partnerships?
Check out the "Eight Ps of Parent Engagement"