A Winter Learning Wonderland
Introduction
The winter months are filled with learning opportunities for young children. Tap into some of the activities listed below to introduce STEM concepts and enhance your child's vocabulary as you explore the wonders of the winter landscape.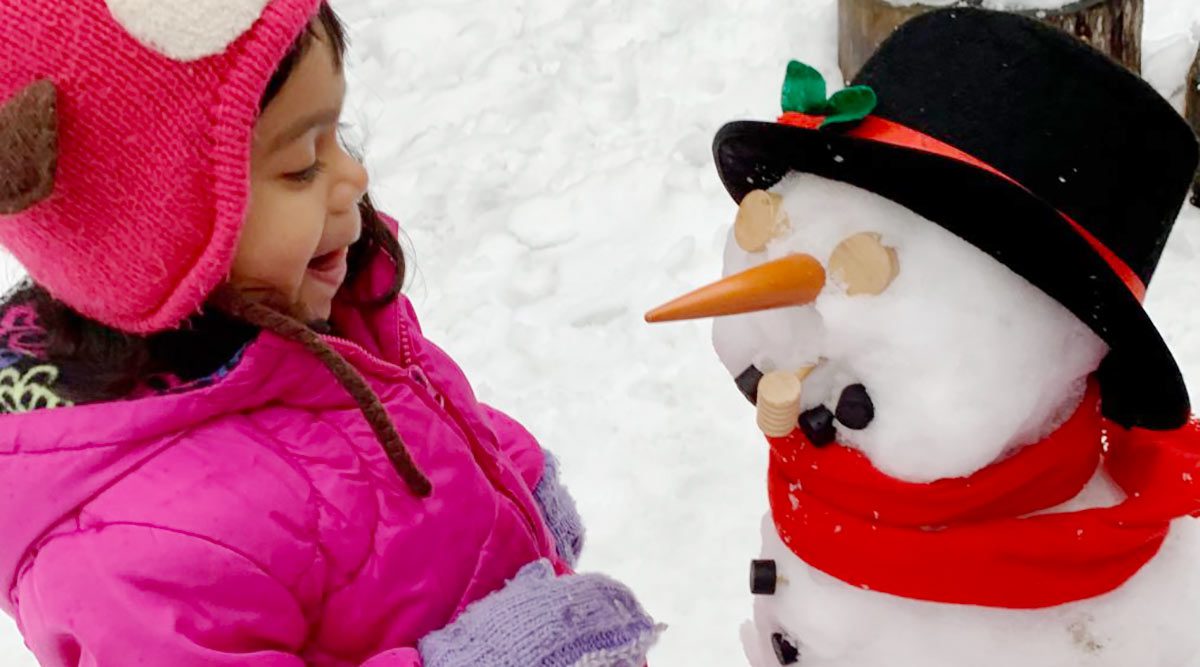 Activity
Snow has a magical way of transforming any outdoor space into a frozen wonderland just waiting to be explored. So bundle up and head outside to reap the benefits of these winter kindergarten-readiness activities:
Cook up some snow muffins and other winter delicacies in an outdoor "snow kitchen": When the forecast predicts the first snow of the season, be sure to grab the toys out of the sandbox before they freeze in the sand. Then repurpose your sand molds as snow molds to introduce lessons about shape and dimension into your winter play. Or equip your child with a variety of kitchen tools such as plastic mixing bowls, wooden rolling pins, wooden spoons, muffin tins or cake pans of different shapes and sizes for hours of creative outdoor play and hands-on learning.
Get some STEM learning in with icicles: Frigid winter mornings aren't all bad: Without them, we wouldn't have icicles! There's a lot of math and science in these frozen treasures. Icicles will captivate your child and lead to many teachable moments as he or she revels in the joy of being able to choose, hold and taste the lesson of the day. Get in some early math learning by encouraging your child to count, sort and measure the icicles. Children can also use their senses to investigate the different properties of icicles. Are they warm, cold, wet, dry, cloudy or clear? Grab the longest icicle that you can find and let it melt into an empty glass to teach your child about the different states of matter as you discuss how solids can change into liquids.
Take a hike! Even in familiar places such as your neighborhood or a local schoolyard, the world looks different during the winter months. Head out for a winter walk and introduce new vocabulary words such as "hike" or "adventure." Research shows that vocabulary building at an early age fosters future success in reading and narrows the achievement gap. As you hike with your child, introduce concepts such as patterns, reflections, black ice, hibernation and wind-chill factors.
Go sledding: What a bonanza of science vocabulary we have here, with words such as speed and force and distance! For younger children, we introduce simple vocabulary words such as up and down the hill. Who went the farthest? Who wiped out the fastest? Don't rule out the large pile of snow that the plow has pushed up at the end of the school parking lot. It may be man-made and it may be small, but it's a hill nonetheless. Kids just love taking small risks such as climbing up and sliding down. Last winter, I watched a three-year-old and a four-year-old spend 20 minutes trying to stay upright while sliding on their boots down an 18-inch "hill." It doesn't take much of an incline to open doors to learning!
Animal-track investigations: Your child can discover animal tracks in the snow during your outdoor investigations. Pawprints made by neighborhood cats and dogs and common native wildlife such as squirrels and birds are just as intriguing as the pawprints of a raccoon or the hoofprints of a deer. This tracking activity never gets old. Try to follow the tracks while making observations and forming theories. Curiosity, persistence, questioning and problem-solving are the traits of a true scientist. These real-life adventures that put science in context represent age-appropriate learning at its finest.
Don't let the snow and cold weather deter you from traversing your kindergarten-readiness trails. Dress for the weather and tap into the winter magic of snow play. It packs a "powderful" punch!