Playdough Skills for Kindergarten Success
Introduction
Kids love play dough. But did you know that playdough is a great activity for building hand strength, promoting fine-motor development and fostering the development of sensory and motor skills? There are so many benefits that this should be a regular pastime!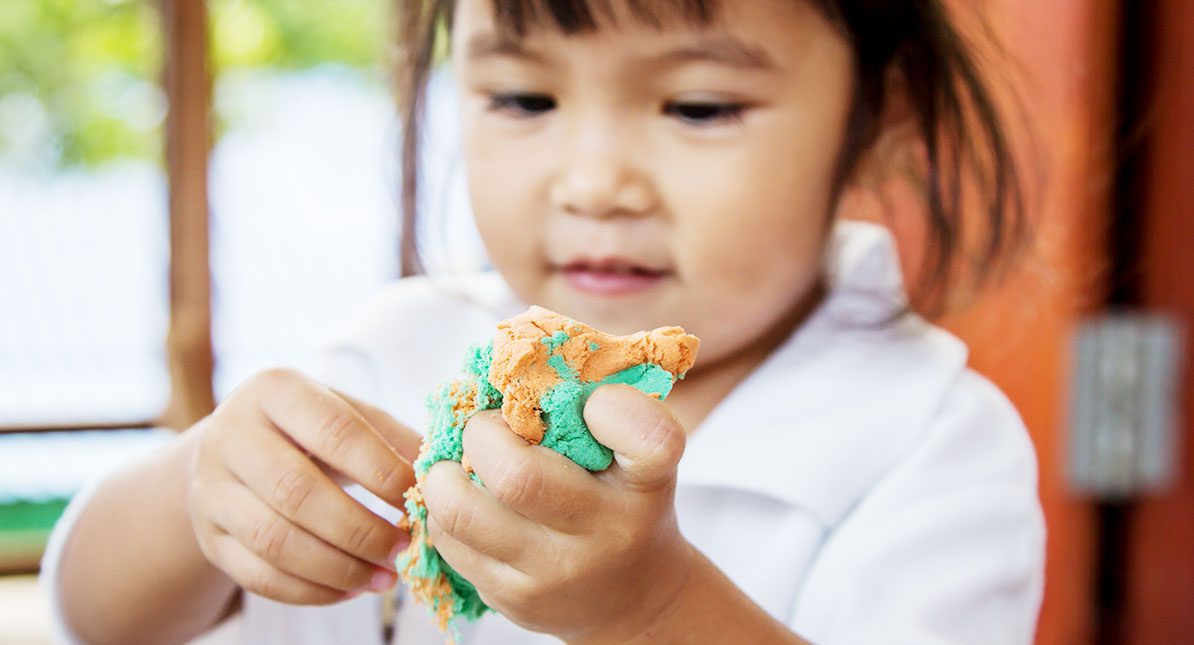 Gather Materials
Playdough or modeling clay
Condiment tray for storage
Activity
When I see children playing with playdough, I know that they are strengthening their fingers, hands and wrists and building the fine-motor skills that will lay the foundation for future handwriting success.
The strength and skills that develop during this activity will also help your child get dressed, hold a pencil, cut with scissors and assemble puzzles and models—while giving you some uninterrupted time to get some work done or get dinner on the table.
I don't have many rules for playdough and clay play, but I do have one hard-and-fast rule: All playdough and clay must stay at the table. My child loved clay so much that this rule wasn't hard to enforce. Even when she was a wandering two-year-old, she always came back to the table for more kneading, rolling and modeling!
I love playdough. But a few years ago, I discovered that I loved modeling clay even more. It never dries out, it doesn't land on the floor in little pieces and it works those small hand muscles even more than playdough.
My two favorite brands are Crayola and Plastilina. Both are soft enough that your child will be able to work with them and, I promise you, they won't dry out. I keep mine out all year long and never need to cover them up or keep them sealed in a plastic bag.
Keep your eyes out for a condiment tray to hold all of your materials. I like to add gems, googly eyes, Mardi Gras beads and toy animals to our tray.
Mix it up! If your child is into dinosaurs, add dinosaurs. If your child likes beads, add wire and demonstrate how to thread the wire through the clay balls.
I also add plastic sticks to our clay play with beads. My child stuck the plastic into the clay and threaded beads onto it, using the clay as a base. When you keep all of these materials in one place, you can just pull them out, place them on a table, stand back and watch the magic happen!
Your child will spend hours creating with clay or playdough. But if they need some help figuring it all out, here are some ideas to get your child started:
Flatten the clay or playdough into a pancake.
Use cookie cutters to cut shapes out of the pancake.
Roll it into a worm.
Use scissors to cut the worm.
Roll it into a ball (this is tricky and great for building small hand muscles).
Hide small beads or gems in it and challenge your child to find the hidden items.
Show your child how to pinch or tear off small pieces of clay or playdough.
Playdough and clay play will help lengthen the attention spans of even the busiest children. The magic of molding their own creations will inspire them to persevere until they are satisfied with the final product.
So grab some dough and watch your child's creativity flow! Better yet, sit down and enjoy a calm activity with your child as you share a "getting ready for kindergarten" moment!