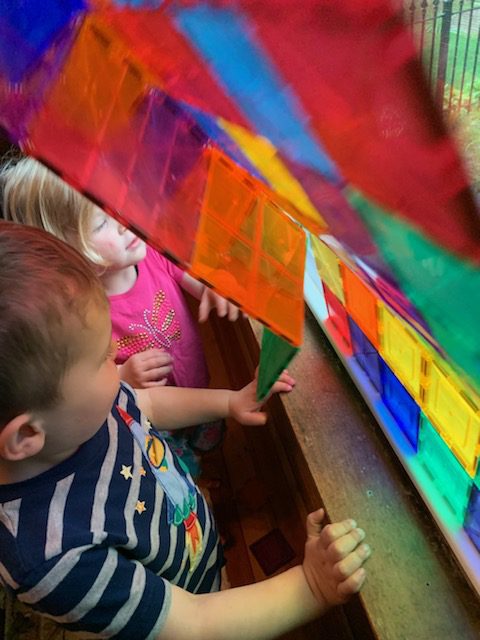 "AUGGGHHHH!" I hear screams, a crash and giggles galore.
The joy of Magna-Tiles® has returned to our ever-popular window-stacking play. When these colorful magnetic tile mosaics come crashing down from the window frame, the children respond with laughter and joy. By contrast, the collapse of three-dimensional block formations often elicits groans and tears.
Something about the suspense of the build (and the challenge of stacking the magnetic tiles higher and higher on the windowpane without triggering a collapse) keeps the children coming back to this activity time and time again.
For anyone unfamiliar with Magna-Tiles, they are magnetized tiles of different shapes that can be used to build the most amazing creations. We have purchased other magnetic block sets, but the children had difficulty figuring out the polarization or were frustrated by the lack of versatility. Ultimately, those more expensive sets were abandoned to collect dust in a corner while the children spent endless hours playing and learning with the Magna-Tiles.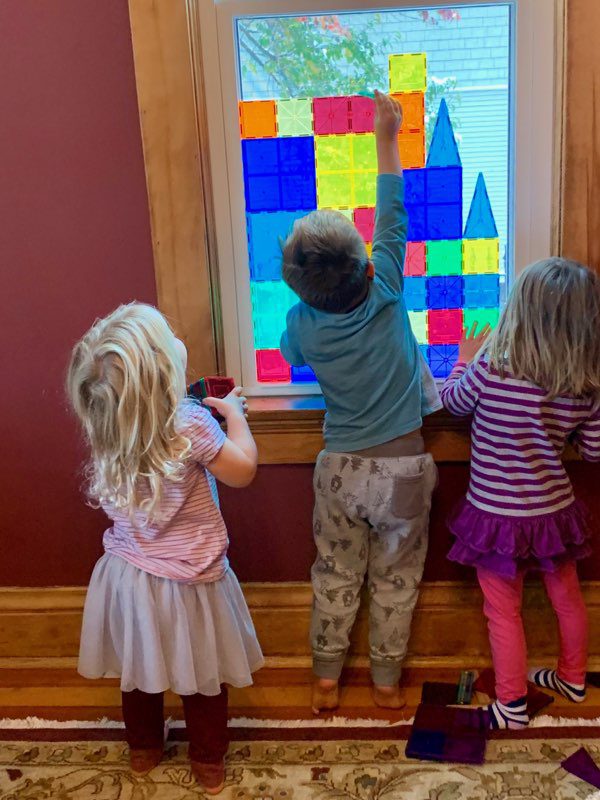 Is there a more perfect block than a Magna-Tile? If I were stranded on an island with a group of preschoolers, this would be on my top-10 list of must-have learning tools.
These are, without a doubt, the favorite block in our center. What's not to love? Magna-Tiles build confidence and fuel hours of creative play. Our only problem with Magna-Tiles is that we never seem to have enough of them!
I read somewhere that you know you have enough blocks when there are still blocks on the shelves. I'm still not sure that I have enough Magna-Tiles on any given day, and I always find myself purchasing more. (Full disclosure: I often purchase PicassoTiles, which are less expensive, equally rugged and nearly identical to my original Magna-Tile set. So don't hesitate to buy this less expensive set.)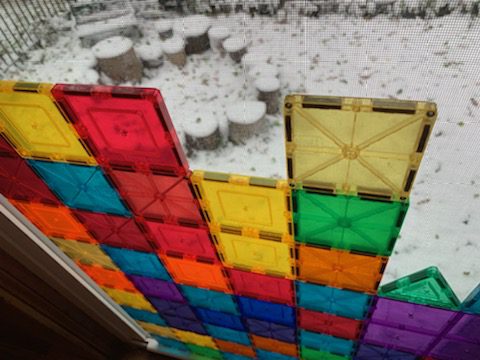 Magna-tiles are a great resource for learning shapes and colors, counting, blending colors, angles and geometry galore!
We have science and engineering as we explore different designs and building techniques. The magnetic feature opens doors to design and construction options that regular wooden blocks cannot provide.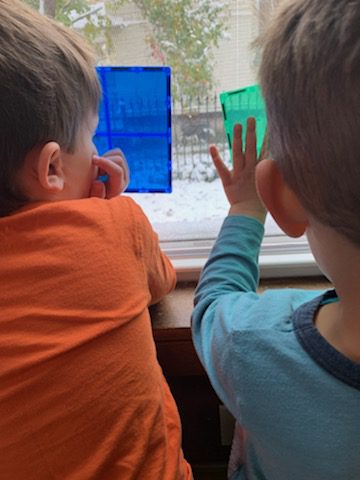 "What color is your tree?" Harrison asks his best friend, Jack, as they use their magnetic tiles to change the colors of the scene outside our window.
Jack proposes a new challenge. "What if we try a triangle this time?"
The boys determine that the results will be the same regardless of the shape. I am convinced that the children's understanding of different shapes has been greatly enhanced by the use of these magnetic tiles. Magnetic tiles are the perfect educational tool for teaching all things geometric!
Sit back and watch the children engage in problem-solving when they are confronted with a shortage of large square magnetic tiles. They will soon discover that they can create the same shape with four smaller magnetic tile squares.
Magnetic tiles also lay the foundation for an understanding of sets and quantities, as well as concepts such as location and positioning as the children expand their knowledge and vocabulary.
"Do you think we can add this square and it won't fall down?" asks Michela. This is working through predictions and collecting data on what works and what doesn't.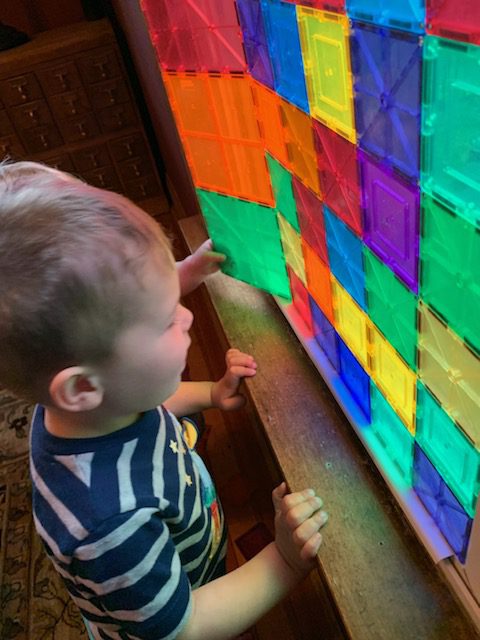 I watch as Eve gingerly pries the corner of the bottom tile away from the window and triggers a structural collapse that brings all of the magnetic tiles tumbling down.
This investigation of "What happens if...?" is met with delight and infectious laughter as the building collaboration starts all over again.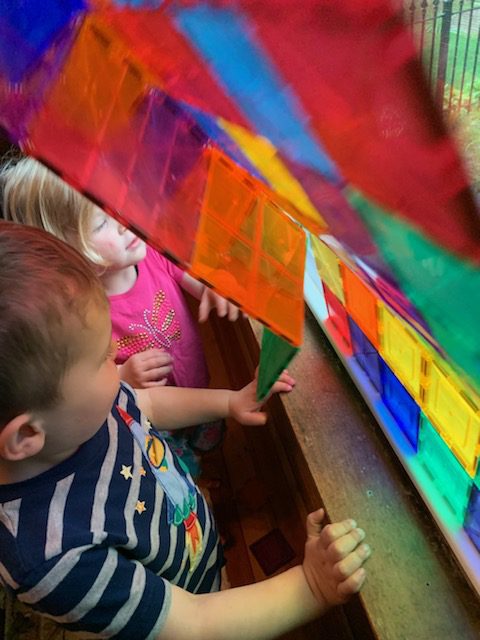 "If we add this triangle to the top, the trees will turn green and look different from the red trees down here."
Jack and Eve continue to pursue different avenues of learning with the tiles. One minute they are investigating colors and the next they are observing patterns or determining which shape should be added to the mosaic.
I've noticed yet another benefit of our window-frame magnetic-tile mosaics activity: It often brings children together who don't naturally play side-by-side. The contagious joy of the activity makes everyone want to join in the fun.
When the temperatures are cool and the skies are gray for days on end, I know I can count on our magnetic tiles to lighten the mood and enrich our learning through play.
Learning happens through play. Embrace it. Children will find as much entertainment in a box of magnetic tiles as in an hour of screen time.
So bring out the magnetic tiles, find a window and let the learning begin!
Read more about The Many Benefits of Block Play on our activities page.